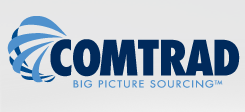 Comtrad Global Sourcing
Strategic Global Sourcing and Hardware Distribution Network
Represented by Burns Sales Company in New England
About Comtrad:
Comtrad Global Sourcing and Burns Sales Company have partnered up to offer a unique product offering to the kitchen, bath and cabinet industry in New England. Effectively two companies in one- Comtrad holds all North American distribution rights to the King Slide brand and also offer their own full CGS line of slides, hinges and decorative hardware.
With nearly four decades of experience, Comtrad offers an innovative approach to outsourcing manufacturing. They service a wide range of industries, offering a variety of OEM manufacturing disciplines. Big Picture Sourcing offers not only R&D and tooling but also the advantages of their strategic global sourcing and logistic experience. They have particular expertise and applications in the woodworking industry.
If you're looking for kitchen cabinet hardware in New England- you can't go wrong with Comtrad and King Slide.
CGS Hardware
Introducing the next generation of Comtrad products. Our CGS Hardware lines have been developed to fill the gap in the market for economic products backed by the expertise and quality that we have developed over the past 40 years in business. Each of our products have been developed with functionality and ease of use in mind. Whether it is for kitchen cabinets, store fixtures, architectural millwork or office furniture, we have the product to suit the application.
CGS 100lb. economy side mount ball bearing slide
Smoothness and reliability at an affordable price point. 32mm hole pattern, smooth action and a 100lb. weight capacity. BIFMA and WI test approved.
CGS metal drawer system
Designed for ease of construction and durability while offering a cost effective production drawer. White epoxy coated cold rolled steel with 100lb. weight capacity and adjustable front brackets. Available in 86mm and 150mm heights with lengths of 350, 400, 450 and 500mm.
CGS double wall drawer system
Combines modern lines with the benefit of a self closing drawer. Available in white and grey and are stocked in five lengths (350, 400, 450, 500 and 550mm) and two different heights (86 and 164mm). An upscale option at a competitive price.
CGS hinge program
Our full line of frameless and face frame hinges are designed with easy integration and durability in mind. Choose from a soft close, self close and free swing options with interchangeable base plates. All three hinge applications work with the same base plates.
Decorative hardware
Designed to meet the most popular designs in the market, our three main offerings are affordable, in stock and ready to ship. The combination of smooth curves and precise lines creates an attractive enhancement to your cabinets. You can count on Comtrad "Big Picture Sourcing" to bring you cutting-edge solutions.
Annika Collection-
Influenced by a natural look with a flowing curvilinear appearance, the "Annika Collection" has five brushed nickel pulls which combine old world charm with a contemporary flair. The smooth blend of soft curves and straight lines produce a pleasing appearance to your cabinetry and creates the high-end look of fine furniture.
Lilly Collection-
Inspired by the smooth and elegant lines of a Lilly, the "Lilly Collection" consists of five brushed anodized aluminum pulls with a unique European design.
TV wall mounts
We stock a number of configurations for the mounting of flat screen televisions. High quality and easy to install.